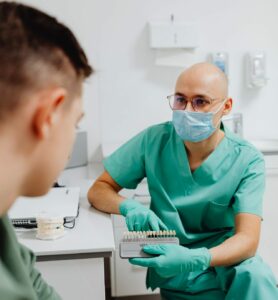 Dental implants are life-changing for many patients. Some of the most advanced dental prosthetics available, dental implants replace a broken, lost, or damaged tooth with an artificial one that is functionally identical. The process of installing a dental implant is more involved than the process of getting fitted for conventional dentures or having a bridge put in place. That leads us to the central question of this blog: are painless dental implants possible? The answer requires a bit of exploration into how dental implants work, how Claremont Dental Arts work with our implant patients, and a few other details.
Dental implants are surgical implants, installed during a series of procedures performed in-office. Here's a brief sketch of how it works: the patient and dentist decide that implants are the best option, based on exams, x-rays and other images, and other personal factors. Then, the patient comes into the office and the dentist installs a screw-shaped base for the implant. This base, called an abutment, is implanted directly into the jawbone. It's then allowed to heal in place, during which a process called osseointegration occurs. Osseointegration means that the bone of the jaw and the implant grow together, fully integrating the implant into the jaw. This functions like the root of a natural tooth, holding the implant stable during normal activities. Once the process of osseointegration is complete and the abutment has healed in place, the patient returns for a final procedure: the installation of the artificial tooth. Once that's done, the process is complete and the dental implant is ready for duty!
So let's return to our title question: what's the dental implant process like for the patient? Can a dental implant be installed painlessly? In many cases, the answer is yes! Dental implants, like so many other dental procedures, have come a long way in the last few years and are far more comfortable for the patient than ever. At Claremont Dental Arts, we put our patient's well-being first, and that includes working to ensure that any procedure we perform comes with as little discomfort as possible. We strive to stay at the cutting edge of dental science when it comes to patient care, and our record speaks for itself. Here are some testimonials from patients regarding how getting a dental implant typically goes in our office: 
"We are grateful for the services of Dr. Chris Reese and his staff. They have cared for our dental needs for five years. I recently needed a dental implant. Dr. Reese was painless and did excellent work. He is not only a man of science and dentistry, but also an artist in his work. He is personable and caring, and his staff is friendly and helpful." –Bill H.
"Finally, I can smile and not feel embarrassed. I've always been a happy person but hated to laugh and smile because I hated my teeth. Now I can say that I am so pleased with Dr. Reese's work that I feel happier and I smile more than ever. I would definitely recommend him to anyone that wants a beautiful smile. I have one to prove it! I love my teeth and my beautiful smile. Thank you Dr. Reese from the bottom of my heart. I want to thank his staff too. They are AWESOME!" –Harriet I. 
"They make you feel like family, they make you feel that you're important. When they're with you, the whole process is so easy–you wouldn't think it would be getting implants and everything . . . I feel wonderful, I really do, I feel confident and I love to smile, it changed my life in many ways!" –Patricia B. 
We're humbled by these kind words from our patients, and proud of the fact that we can offer dental implants with minimal to no discomfort in most cases. While every patient is unique, at Claremont Dental Arts we will work with you closely to address your individual needs and ensure that your dental implant (or any dental procedure you trust us with) results in the best possible outcome and gives you your best possible smile.

Don't delay–get in touch with us today and make an appointment. Our friendly staff will get you in to see us and get you started on the road to better dental health!