Inman Aligners: Straighten Your Teeth with Clear Braces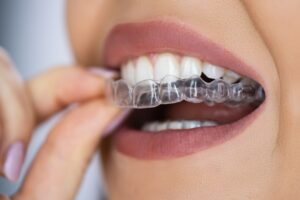 We smile when we're feeling our best. Well, most of us do. But for nearly 7 in 10 Americans, smiling isn't an act of joy, courtesy of dental problems like misaligned teeth.
There's a lot said about beautiful smiles. It's one of the first things people notice about you. However, people with crooked teeth often feel insecure in their smiles, with many going to extreme lengths to cover it up.
That's not all.
Teeth are like wheels on a machine. They are supposed to fit together in a certain way to do certain things. When they don't, you could be looking at several oral health problems.
For starters, crooked teeth are harder to clean, since they offer more places for plaque to hide. Plaque buildup can result in cavities, inflammation, and gum disease.
Make An Appointment